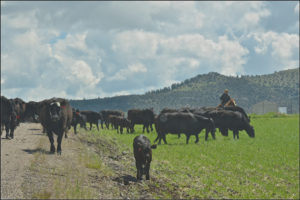 I usually drive the back roads and side roads as I travel through Utah, Idaho, Wyoming and Montana. This gives me the opportunity to see wildlife in different settings and new scenery. This spring in finding a less traveled road from Jackson Wyoming to Salt Lake City I ran head on into a herd of cattle being driven by cowboys and cowgirls.
The cowboys/girls are all from one family. Mom, Dad, adult kids and grandkids. Where most cattle ranchers move their cattle from winter range to summer range by truck, this family does the old fashion cattle drive. It's a two day drive with an over night camp out and barbecue.
In the cowboy bunch was one heart warming image that shows this family enjoys their time together.They start the kids young and teach horsemanship first. Grandma followed the cattle drive in a pickup with a stock trailer for any cow, calf or horse that showed signs of being tired or lame or maybe even a grand kid. Pretty nice family all around.